Archery Games COVID-19 Policy
Your Safety Is Important To Us!
Although we cannot completely eliminate the risk of the conronavirus we will be implementing the following measures to help protect our patrons:
-Hand sanitizer to be readily available
-Additional time gaps between groups in order to perform more thorough cleaning
-Staff to wear face masks at the facility
-Staff are screened for COVID-19 symptoms and sent home if they are exhibiting symptoms.
*Important* If you are exhibiting signs of COVID-19 (fever, new persistent cough, shortness of breath) we ask that you DO NOT come to the facility & contact us to re-book your axe throwing session. Update (08-14-20): We kindly ask that our guests follow the Omaha mask mandate rules while at the facility.
OMAHA'S ONLY INDOOR ARCHERY ARENA TAG: THE ULTIMATE ACTION EXPERIENCE!
The game allows 2 teams to battle it out with bows and foam tipped arrows in the Archery Games arena. The game-play is similar to dodge-ball and the ultimate objective of the game is to tag all of the opposing players with arrows in order to eliminate them from the game. There is also no painful marks or bruising from the arrows.
PRICING
We offer Regular Sessions where you can book into one of our public games and join other players.
Private Games are available if you would like to reserve the entire arena for your group.
Birthday Packages are available in our Events section.
Private Archery Session
1 Hour of Gameplay
Includes: All equipment, training, target practice, and referee for the entirety of the game.

You may be paired with other groups of players in your timeslot.

Large private group discount: Rent the entire archery field for up to 20 players at a fixed cost of $350
We also have axe throwing at our facility!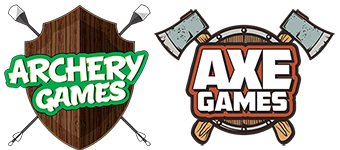 Looking to add on an axe throwing event to your archery game?
We offer discounts if you want to do both activities in the same-day, please contact us for more details.