ARCHERY GAMES OMAHA
Now Reopen!
All group bookings will now be private.
Maximum group size of 16 players.
Book Archery Games Today
OMAHA'S ONLY INDOOR ARCHERY ARENA TAG: THE ULTIMATE ACTION EXPERIENCE!
The game allows 2 teams to battle it out with bows and foam tipped arrows in the Archery Games arena. The game-play is similar to dodge-ball and the ultimate objective of the game is to tag all of the opposing players with arrows in order to eliminate them from the game. There is also no painful marks or bruising from the arrows.
PRICING
We offer Regular Sessions where you can book into one of our public games and join other players.
Private Games are available if you would like to reserve the entire arena for your group.
Birthday Packages are available in our Events section.
Private Archery Session (60 min)
Minimum Cost of 8 players ($200)
Includes: All equipment, training, target practice and fully-refereed game play

Covid-19 policy: All of our archery bookings will be private group bookings. There is a minimum cost of 8 players ($200) per archery session.
We also have axe throwing at our facility!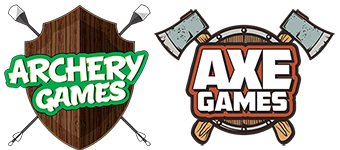 Looking to add on an axe throwing event to your archery game?
We offer discounts if you want to do both activities in the same-day, please contact us for more details.